The Sharing Economy's Next Frontier: Energy Sharing
The so-called sharing economy has given rise to new forms of business, such as AirBnB and Uber. Could the same sharing approach work in the utility business?
A Missouri S&T researcher thinks it can, and she has developed a model for a peer-to-peer network through which consumers could buy, sell and share energy.

Solar shingles are one of the newest ways to introduce your home to renewable energy. According to the Solar Energy Industry Association, the U.S. reached a cumulative 53.3 gigawatts of solar energy capacity in 2017, enough to power over 10 million homes. And if you're reading this, you're likely interested in upgrading your home to get in on the action while the 30% solar tax credit remains.
Julia Morgan, a Missouri S&T Ph.D. student in systems engineering, is researching energy sharing among peer-to-peer networks.
"More consumers are yearning to use renewable energies, and energy providers are trying to fill that gap between what's already being done and what consumers want," says Julia Morgan, a Ph.D. student in systems engineering at Missouri S&T.
For her research, Morgan is studying how individuals who get their power from multiple sources – from solar panels and wind turbines to more conventional sources – could form communities for energy sharing with each other and local utility companies. She's presented two research papers on the topic at international conferences for the American Society for Engineering Management (ASEM) and the Institute of Industrial Systems Engineers (IISE).
Morgan says that sharing communities include not only consumers of electricity, but also "prosumers" – end-users who both consume and produce electricity using their own renewable energy generators. The idea of energy sharing is to meet individual energy needs through renewable energies and to sell excess energy within a sharing community when households produce more electricity than they need. By sharing energy generation and demand, prosumers could see a cost savings and become more self-sufficient.
Dr. Ruwen Qin, Morgan's advisor and an associate professor of engineering management and systems engineering, says there are several benefits to sharing energy for consumers and utility companies.
"Sharing unused generation from renewable energy sources within a community benefits all participants in the community," says Qin. "Consumers not only enjoy clean energy generated locally at a lower price than paying for the utility, but prosumers may also be able to sell the excess electricity to the community at a more attractive price."
Qin says energy sharing could also help utility companies by lowering the impact of uncertain renewable generation on the grid.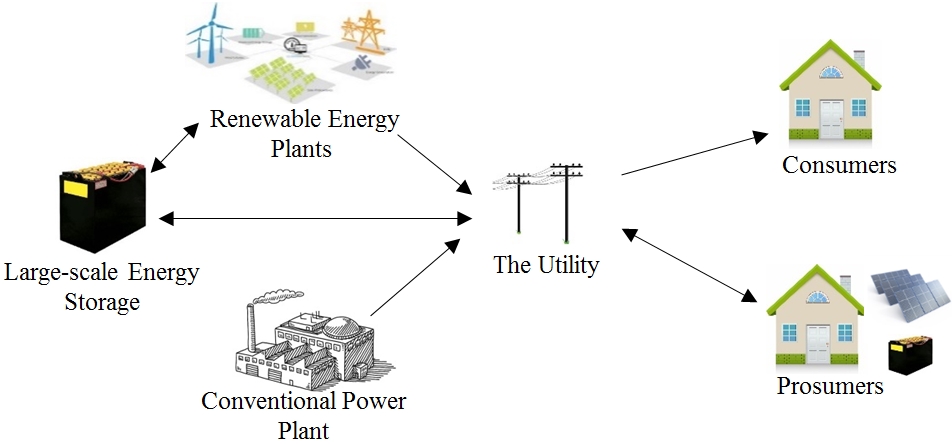 An energy sharing community includes various participants from utility companies to prosumers, who both consume and produce electricity.
Morgan pointed to an example of a functioning microgrid operating in Brooklyn, New York. The Brooklyn Microgrid (BMG) allows its participants to "engage in a sustainable energy network and choose their preferred energy sources, locally." BMG is a blockchain-enabled platform that allows for energy transactions through an online marketplace. Participants include energy companies, solar communities, residential and business consumers, as well as residential and business prosumers.
So how close are Americans to connecting homes together to form energy sharing communities and larger systems?
"Given that it's already happening on a small scale, I'd say we're pretty close," says Morgan. "Give it a decade, and you'll see more of that. If we can start to connect multiple communities of microgrids, they can be each other's energy backup instead of the utility company."
Qin points out that each end-user – consumer or prosumer – of a sharing community will need a home energy management system to help them participate in the sharing community. Energy sharing also requires a system that manages the energy sharing at the community level. Morgan focuses on addressing these two technical needs in her Ph.D. study.
Utility companies could play multiple roles in energy sharing systems, according to Morgan. Without building additional infrastructure, sharing communities will need utility companies for their energy distribution network. The communities may also need to rely on utility companies to serve as coordinators of the sharing systems. Utilities provide end-users with not only electricity, but also infrastructure and coordination services for energy sharing, and these services will likely be new revenue streams for the companies.
Morgan says her next step is to gather data to gain a better understanding of the current system and improve a system for energy sharing.
News Source: https://www.renewableenergyworld.com/articles/2019/01/the-sharing-economys-next-frontier-energy-sharing.html